Craven County Wood Energy is a 48 MW biomass-fired facility located near New Bern, North Carolina that commenced commercial operation in October 1990. Atlantic Power acquired a 50% interest in Craven County from AltaGas Power Holdings (U.S.) Inc. in August 2019. The remaining 50% equity interest is held by CMS Energy.
All of the output of the Project is sold to Duke Energy Carolinas under a PPA that expires on December 31, 2027. The plant burns wood waste, including wood chips, forestry residues, mill waste, bark and sawdust, and poultry litter.
The plant is operated by an affiliate of CMS Energy. There is no project-level debt.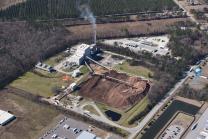 Electricity Off-Taker:
Duke Energy Carolinas
PPA Expiry: December 2027
S&P Credit Rating:
A-