The Calstock Project is a biomass generation facility that also utilizes waste heat to produce electricity. It is located on the north side of Highway 11, in the Township of Stoddart, in the District of Cochrane, Ontario. It is located approximately 30 km west of Hearst, Ontario. Atlantic Power indirectly owns 100% of the facility. Calstock sells 100% of its output to the Ontario Electricity Financial Corporation (OEFC) under a power purchase agreement that was recently extended to March 2027.
The Facility creates steam from the combustion of wood waste in a boiler and waste heat from TransCanada's nearby compressor station. Power is generated using one 41 megawatt (MW) Alstom steam turbine-driven generator. The wood waste is burned in a Foster Wheeler boiler with the flue gases from the boiler treated in a cyclone separator and an electrostatic precipitator that removes the majority of the unburned carbon and particulates before the gases enter the atmosphere. The Facility uses a cooling tower to condense process steam for reuse in the power generation cycle. Calstock has a maximum processing capacity of 320,000 GMT/yr of wood waste.
Residual wood ash from the Facility is disposed of in a dedicated ash landfill located on the eastern portion of the property.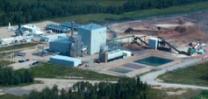 Electricity Off-Taker:
Ontario Electricity
Financial Corp.
PPA Expiry: March 2027
S&P Credit Rating: AA