The Cadillac Project is a 39.6 MW biomass-fired facility located in Cadillac, Michigan, that commenced commercial operation in 1993. The Project is owned by Cadillac Renewable Energy, LLC in which Atlantic Power owns a 100% interest. The Project was acquired by Atlantic Power in December 2010.
Cadillac sells electric power to Consumers Energy Company, under a 35 year PPA that expires in June 2028. The Project is operated by Atlantic Power. Cadillac purchases fuel under numerous short term supply contracts from an array of local suppliers. The area surrounding the Project contains significant, well-managed forest resources.
The Project has been offline following an equipment malfunction and fire that occurred on September 22, 2019. The Company's assessment of the damage and investigation of the cause of the fire are underway. The Company believes that the cost of repairs and replacement of equipment, and lost EBITDA during the outage, will be covered by its insurance, and that the financial impact of the event will be limited to its insurance deductibles of approximately $2.5 million to $3 million. As of November 2019, the Company's best estimate is that Cadillac will be offline for repairs for at least another nine months.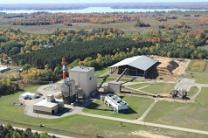 Electricity Off-Taker:
Consumers Energy
PPA Expiry: June 2028
S&P Credit Rating:
BBB+