Pierce County, Washington
The Frederickson Project is a 250 MW natural gas-fired combined-cycle generating facility, located in Pierce County, Washington State. Atlantic Power indirectly owns a 50.15% in the Project. Frederickson achieved commercial operation in 2002.
The output from Atlantic Power's interest in the facility (approximately 125 MW) is sold under long-term power purchase agreements with three Washington State public utility districts: Benton County, Franklin County, and Gray's Harbor Public Utility Districts. The PPA's expire in August 2022. Puget Sound Energy has a 49.85% interest (approximately 124 MW) in the project and uses its share of the output to serve its retail customers. Dispatch of the facility is coordinated with Puget Sound Energy under the power purchase agreements.
Natural gas is provided to Frederickson by its electricity off takers. Atlantic Power operates and manages the Project.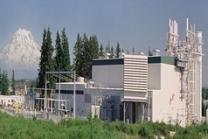 Location:
Pierce County, Washington
Electricity Off-Taker:
Benton Co. PUD, Grays Harbor PUD, Franklin Co. PUD
PPA Expiry: August 2022
S&P Credit Rating A+ to AA-