Piedmont Green Power, LLC owns a 55MW biomass-fired generating facility located in Barnesville, Georgia, approximately 70 miles southeast of Atlanta. Atlantic Power owns 100% of Piedmont Green Power, LLC and provides operations and maintenance of the facility. The Project achieved commercial operation in April 2013. The Project utilizes approximately 500,000 tons of woody biomass annually, consisting of urban wood waste, mill and logging residues. Piedmont qualifies as a source of renewable power under federal and state standards.
Piedmont has a 20-year power purchase agreement with Georgia Power, which includes both capacity and energy payments. The energy revenue is based on certain indices that reflect the cost of procuring biomass fuel that are expected to largely mitigate potential biomass fuel price volatility. The Project also sells renewable energy credits on the open market.
In December 2016, in response to a legal challenge to the Project's air permit, the U.S. Environmental Protection Agency (EPA) issued an order rejecting most of the petitioner's claims and sent the matter back to the Georgia Environmental Protection Division (EPD) in order to clarify certain permit conditions. In April 2017, the Georgia EPD issued an amendment to the Project's air permit in response to the EPA's order. The amended permit establishes new fuelstock monitoring and recordkeeping requirements, which are not expected to require any significant changes to the way the plant is operated. The amended permit is subject to a public comment period and EPA review before becoming final.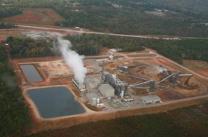 Electricity Off-Taker:
Georgia Power
PPA Expiry: September 30, 2032
S&P Credit Rating: A